Residential & Commercial
Fine Art & Creative Custom Framing
Quality & Service Since 1976
Join Our Mailing List For Updates Regarding New Artists And Gallery Events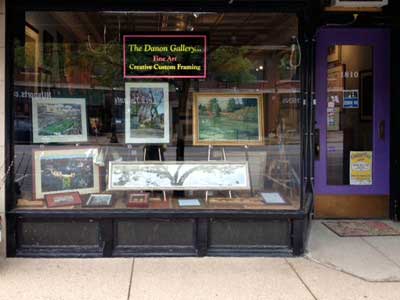 The Danon Gallery has one of the most interesting, diverse and eclectic art collections on the North Shore. From antique watercolors and oils to contemporary, limited edition serigraphs and Giclee prints. From metal sculpture to beautiful fiber art wall hangings by internationally collected, fiber artist, Carmon Slater. And then of course there is a 40-year history of creative, custom picture framing for both residential and corporate environments.
For 40 years, The Danon Gallery of Evanston (formerly of Wilmette, Colorado and Chicago) has continued to bring quality and service not just to the Chicago area, but to homes, restaurants, offices and hospitals around the country. Bob Danon, owner and operator of The Danon Gallery is personally involved in every project that crosses his desk and worktable. In both "Residential and Corporate" environments, The Danon Gallery continues to excel in the design and creation of affordably priced fine art and creative, custom picture framing.
Services and products available at The Danon Gallery: Creative Custom Picture Framing, Fine Art – Originals & Limited Editions, Poster Art, Mirrors, Shadow-boxes, Plexi-boxes, Mounting up to 4′ x 8′, (and larger) Repairs & Installations, Packing and Shipping, Local Pickups and Deliveries.
Please feel free to stop in anytime and check out our new gallery. Or subscribe to the website for monthly info regarding specials, "Third Thursday" Gallery Shows, and much, much more.
The history…
I've been in the art and custom framing business since February 1976 and have worked comfortably in both commercial and residential environments. And unlike many in my business, I do all the work myself, including installations. For 40 years in business, my talents have taken me into many Chicago area businesses, homes, law firms, restaurants, etc. Likewise, I have framed, delivered and installed for clients in Denver, Santa Fe, Ohio, New Jersey and New York. The clients…
The recently dedicated Pete Seeger Room at the Old Town School of Folk Music, The original "Michael Jordan's Restaurant" (400+ pictures completed in 5 weeks, framed and installed), Mike Ditka's Restaurant on Chestnut, The East Bank Club, Children's Memorial Hospital, St. Anthony's Hospital (Chicago), St. Joseph's Hospital, Columbus Hospital, the Wyler Children's Hospital at the University of Chicago, and the St. Anthony's Hospital System in Denver, The Arrowhead Golf Club building in Wheaton, Pat Bowlen and the Denver Bronco's at Mile High Stadium.
The mission…
Again, unlike many corporate art people, I do it all myself. From conception to completion, I have worked with the architects/designers on the actual design project as well as with the end user. There is no middleman when I'm involved. I do all the framing myself as well as the installations. This has proven to be far more efficient and cost effective than buying from a corporate art consultant who then uses a separate framer and installer.
The results…
I'm very good at what I do, extremely cost conscious, and easy to work with. I have many happy customers, and especially good references. I have often been accused of treating each customer, as if they were my "only customer", and that's a good thing. I look forward to working with you in the future.
The Danon Gallery
1810 Central Street, Evanston Illinois 60201
847.899.7758
Monday: Noon to 5:30 PM
Tuesday thru Thursday: 10:30 AM o 5:30 PM
Friday & Saturday: 10:30 AM to 4:00 PM
Sunday: Noon to 4:00 PM (Open most, but not all Sundays)