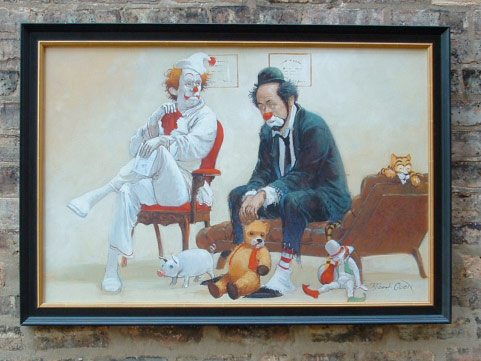 Oil on canvas, 24" x 36" Price: Open for discussion
+ PSI (Pack, Ship Ins.)
Robert Owen was born in Polk County, Missouri on September 2, 1930. He was ninth of ten children. He has been painting for 35 years professionally. For 30 of those years he has been delighting people with his clowns. Mr. Owen was residing in Southern California up until the death of his beloved wife of 22 years, Norma Jeanne February 5th 1999. He has since taken up residence in Western Washington.
Robert Owen's paintings can be found among many of the international "jet set" community's distinguished art collections, and in private homes all over the nation. A partial list of his collectors include, Mr. and Mrs. Don Adams, Mr. and Mrs. Frankie Avalon, Mr. and Mrs. Sid Caeser, Mr. and Mrs. Dick Clark, Mr. and Mrs. Joseph J. Cunha, Mr. and Mrs. Peter Falk, Dr and Mrs. C.R. Lincoln, James Merick, Mettler Electronics Corp, Mr. and Mrs. Jerry Van Dyke, Miss Dionne Warwick and James West.
One man shows and exhibits have been held in many galleries some include: Norman Wilks Gallery, Oklahoma City, Ok, ~ Pagliacci Gallery, Newport Beach, CA, ~ Ira Roberts Gallery, Beverly hills, CA, ~ Maidenlane Gallery, San Francisco, CA,~ Charles Pace Gallery, Houston, TX,~Galerie De Tours, Carmel, CA,~ Albert Charles Gallery, Gatlinburg, TN,~ Craft Gallery, La Mirada, CA,~ Joy Rubins Art Emporium, Hollywood, FL,~ Grafton Street Gallery, Costa Mesa CA,~ Seger Fine Art Gallery, Boca Raton, FL,~ MGM Grand Gallery, Las Vegas, NV, ~ O'Kelly's Gallery, Long Grove, IL,~ Houshang Gallery, Dallas TX, ~ Gallerie Hawaii, Honolulu, HI, ~ Galerie de Las Artists, Las Cruces, NM,~ and the M useum of Sciences & Industry, Los Angeles, CA, Just to name a few.
© Robert Owen. All Image Rights Reserved