**

Featuring the works of Alex Yaworski

**
One of the greatest artists, to have ever lived, worked, and shown his work in Chicago. Now, and only now, there are approximately, 1000 (in total), signed offset-litho prints available, of 9 different, Chicago images, at wholesale prices to those galleries, hotels , hospitality companies, and other retailers, who have the market, and would like to bring these rare, antique prints home, and back to Chicago.
For more info: Who was Alex Yaworski * See the images * Wholesale & Retail Pricing
* Formerly of Evanston, IL, The Danon Gallery is currently in Lawrence, KS
847-899-7758 * www.danonartnframes.com * 785-551-8198
Residential & Commercial
Fine Art & Creative Custom Framing
Quality & Service Since 1976
The Danon Gallery in Evanston, Il 2010-2019.
Bob and his two business partners, Evanston, Il.
The Danon Gallery, now in Lawrence, Kansas, has one of the most interesting, diverse and eclectic art collections in the country. From antique watercolors, oils and etchings to contemporary, limited edition serigraphs and Giclée prints. From metal sculpture to beautiful fiber art wall hangings by internationally collected, fiber artist, Carmon Slater. And then of course, there is a 47-year history of creative, custom picture framing for both residential and corporate environments.
For 47 years, The Danon Gallery (formerly of Chicago, Evergreen, Colorado, Wilmette and Evanston, Il,) has continued to bring quality and service not just to the Chicago area, but to homes, restaurants, offices and hospitals around the country. Bob Danon, owner and operator of The Danon Gallery is personally involved in every project that crosses his desk and worktable. In both "Residential and Corporate" environments, The Danon Gallery continues to offer unique fine art selections, as well as excelling in the design and creation of affordably priced creative, custom picture framing.
Services and products available at The Danon Gallery: Creative Custom Picture Framing, Fine Art – Originals & Limited Editions, Poster Art, Mirrors, Shadow-boxes, Plexi-boxes, Mounting up to 4′ x 8′, Repairs and Installations (the hanging of your art), Packing and Shipping, Local Pickups and Deliveries.
Please feel free to call anytime, and make an appointment to visit the Danon Gallery. Or subscribe to our website for monthly information regarding specials, and upcoming, Gallery Shows, and much, much more.
Thank you…, Bob
The Danon Collection
As I bring the Danon Collection more up to date in this new format, other pieces will be added and offered. Should anyone wish more close-up photographs, or more information on any particular piece or artist, please don't hesitate to ask. Thank you…, Bob
The Danon Collection
As many know, I have been in the art and creative custom picture framing business since February, 1976. However, I started buying and collecting art, several years before that. Now, after almost 50 years I have decided to open that world up a bit more to those of you who might be art lovers. Each piece in The Danon Collection has an "asking price," and all reasonable offers will be considered…
The Danon Collection is now offering a number of these works of art. Some are about the Chicago area, or by Chicago area artists & publishers. Many are from different parts of the country and some are from Europe. Inquiries are welcome during this on-going project. bob@danonartnframes.com
"The Chicago 7 Trial"
by John Downs. $16,400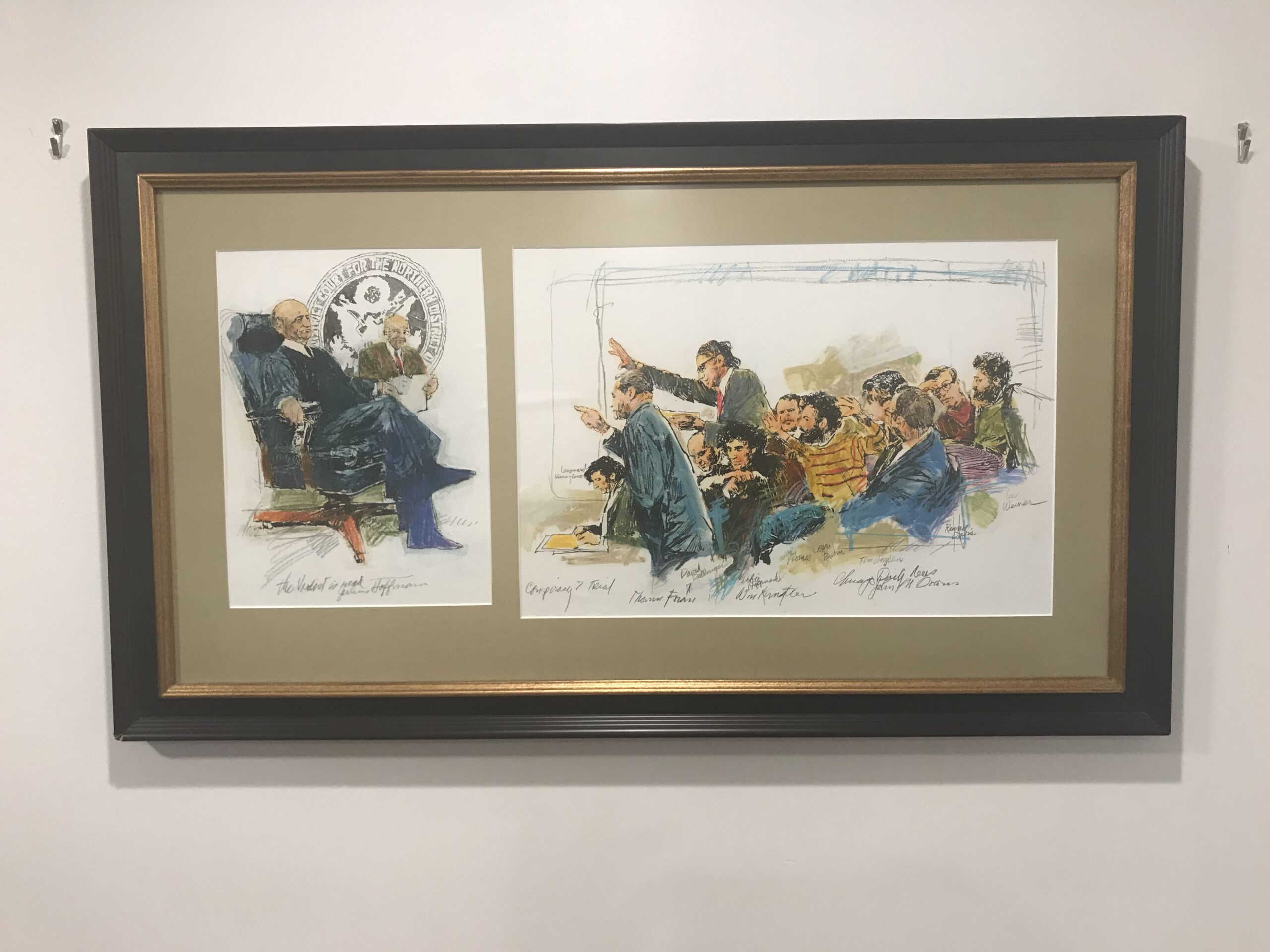 "The Chicago 7 Trial" Inside dimension – 19" x36.25" Frame size – 23.25" x 40.5" Judge Hoffman mat-opening -10" x 14" Attorney and defendants opening – 14.5" x 20.5"
The glass used is Conservation-clear glass and the mat and backing are acid-free.
The Chicago 7 Trial – Wikipedia- https://en.wikipedia.org/wiki/Chicago_Seven
John Downs was my friend… We met in 1968, when we lived in the same building, in Chicago's Uptown neighborhood. At that time, John was the Feature Illustrator for the Chicago Daily News. Years later, we lived just blocks from one another, in Rogers Park, on Chicago's far northside.
I'm proud to say that John's wonderful paintings, often hung in my home and my gallery, numerous times over the years and appeared in a number of my Gallery Shows. Going back 25-30 years, I purchased two particular paintings from John. Above, I framed them together in one frame with a double opening mat. On the left is Judge Julius Hoffman, about to read the verdict, and on the right, lead defense attorney, William Kunstler trying to address the judge.
John Downs did this painting from a black and white, line drawing stat, of the original Daily News, court room drawing, of his original illustration. Upon completion of that painting, John wrote in the names of all the various characters in the painting.
John M. Downs 1936 – 2019
John Downs, Chicago Sun-Times Obituary:
https://chicago.suntimes.com/2019/10/21/20881924/john-downs-artist-chicago-daily-news-sun-times-richard-speck-john-wayne-gacy
"The Bear"
by Sheri Dunn. $5,975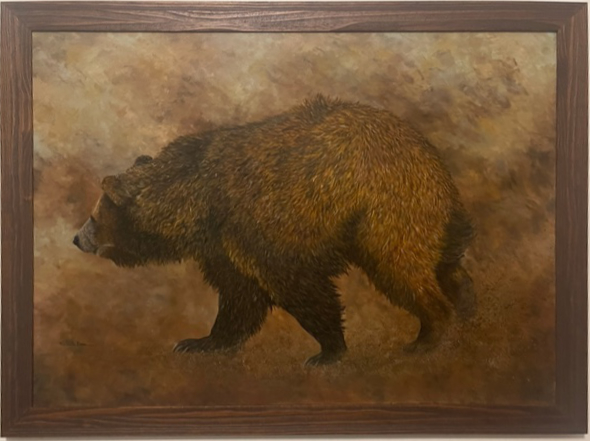 I had the pleasure of meeting Sheri Dunn in the mid-1980's, when I was living in Evergreen, Colorado. I found her work rather extraordinary at that time, and those feelings have never changed. Bringing the kind of detail Sheri shows, working with a similar color range, is exceptional. I recently reframed it, with the intent, of keeping one's eyes, constantly going back to the Bear. The stretched canvas measures 30" x 40".
The painting is copyrighted, and can not be reproduced without the artists permission.
"Symbolic Portrait of a Great City"
by Sherman Henry Linton. $46,500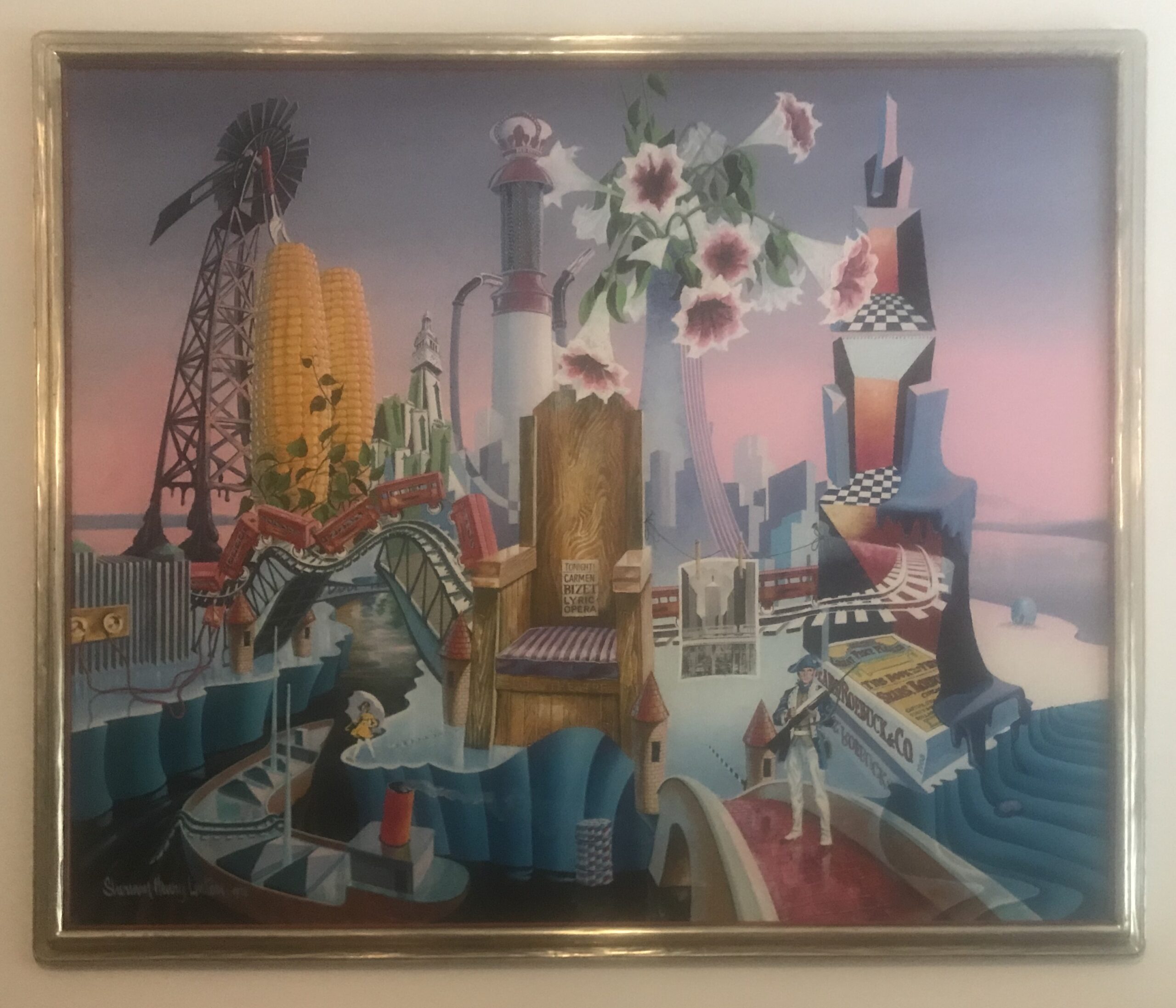 "Symbolic Portrait of a Great City", 1978, Size: 48″ x 60″ Acrylic on canvas.
This painting was commissioned in 1978 by CBS owned, WBBM-FM Radio, in Chicago, to appear on a calendar promoting the radio station. Henry was very prolific , whether it was a surrealistic painting like the one above or others I own, several of which are below. The buildings and images depicted in this painting tell the story (going from the top, left to right) are: The Hancock Building (with the structural features of a large oil derrick and wind tower), Marina City (as two cobs of corn), The Wrigley Building (literally built from packs of chewing gum), The Standard Oil of Indiana Building (as a gas pump), The 1St National Bank Building (as a vase of orchids, representing wealth and good fortune), The Sears Tower (clearly built on the Sears Catalog), The Steel Mills in Indiana (far to the right, across the lake), with smoke rising from their furnaces, and the original Grant Park Band Shell (appears as a broken egg shell), Continental Insurance (the soldier standing on the bridge), a black and white photo hanging on a line, looking south on LaSalle at the Board of Trade (one of the most photographed images of Chicago), The Lyric Opera House (shaped like a throne), The Morton Salt Girl (standing by the Chicago River), The CTA (on the "L" tracks, plugged into) The Merchandise Mart
"Memorial to War"
by Sherman Henry Linton. $19,800
"Memorial to War" 1972-1973 – Acrylic on canvas 30′ X 36″, Framed 33″ X 39"
"Memorial to War" was the very first painting I purchased from Henry, several years before I ever into went into the Fine Art and Custom Picture Framing business. The painting was done as a tribute to his father, who was gassed in WWI, and died years later. If you look into the clouds, on and over the soldier's left shoulder, you can see a woman crying; that was Henry's mother. © Henry Linton. All Image Rights Reserved.
"MANKIND CANNOT BE RECYCLED"
by Sherman Henry Linton. $11,900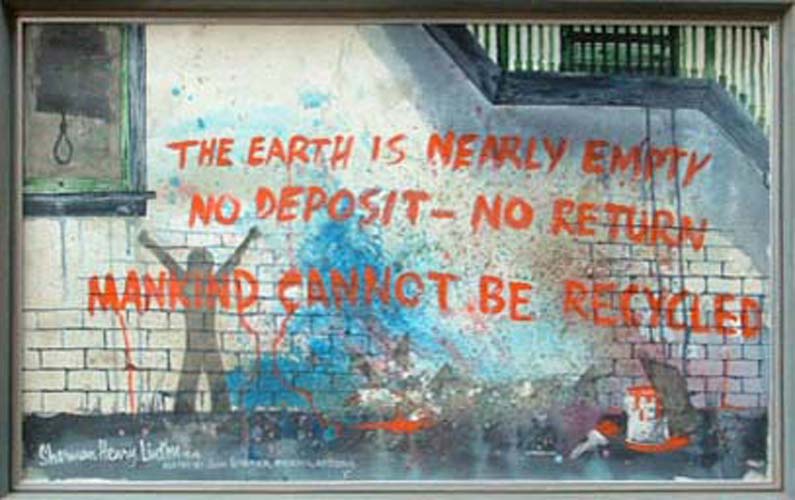 "Mankind Cannot be Recycled" 1976 – Acrylic on canvas/mixed media. 22″ x 36″, Framed- 24″ x 36″
"Mankind Cannot Be Recycled…." just Henry being Henry.
© Henry Linton. All Image Rights Reserved.
Over the years, my friend Hank Linton, who signed his work Sherman Henry Linton, worked as an art director, at a number of different Chicago, advertising agencies. Whenever possible, he would retire to his farm in upper Michigan to paint. Hank could paint in almost any genre but his true love was surrealism. Several of Hank's paintings were on display at the once famous, Ricardo's restaurant on Rush Street. One, in particular, "Evolution," replaced the missing Ivan Albright painting, "Drama," when it went missing in an apparent family disagreement.
"Hold No Water"
by Sherman Henry Linton. $1,600
"The Beatles at Tittenhurst"
by Jessica Fine. $14,800
"The Beatles at Tittenhurst" Pastel on paper, image 11.5"x14.5" Frame 24.5"x27.5"
"The Beatles at Tittenhurst" When Jessica Fine first walked into my gallery with this painting under her arm, she was some 20+ feet away. And seeing it from that distance, I would have sworn it was a photograph. The clarity of the images was unbelievable, for a pastel image. And when I viewed it up close, I was even more impressed.
The image that Jessica Fine so carefully painted was taken from the very last photograph ever taken of the Beatles together. Wiki: The last Beatles photo session took place at Tittenhurst Park on 22 August 1969, and the photos were used for the front and back covers of their Hey Jude album (a collection of single sides) early in 1970. Also during that year, and in the wake of the Beatles' breakup, Lennon built his own recording studio, dubbed Ascot Sound Studios, in the estate grounds, where he and Ono recorded their next several albums. The matching cover photos of their twin Plastic Ono Band albums were taken at Tittenhurst by the pair, using an Instamatic camera, and portions of the Imagine film-length video, which included selections from the Fly album, were also filmed in the grounds. The interior was also used as the backdrop for the film that was used to promote the single "Imagine", with Yoko seen opening the window shutters as John played a white grand piano.
"…for Courage is the capacity to confront
what can be imagined"
by Carmon Slatter. $28,400
"…for courage is the capacity to confront what can be imagined…"
Original work by artist Carmon Slater completed in 1981.
129" x 82" Hand-painted and tie-dyed hand sewn velvet.
Carmon Slater has been creating artwork for the past fifty+ years. His works are found in collections around the world, including the Bank of Australia-New Zealand and Rocky Mountain Energy, as well as those of private collectors. Working in acrylic, print, and fiber media, Slater's work often reflects his extensive background in the earth sciences. Layers of color focus on the interplay of positive and negative space, an important aspect of his work.
"Those Pastel Days of Summer"
by Carmon Slater. $19,600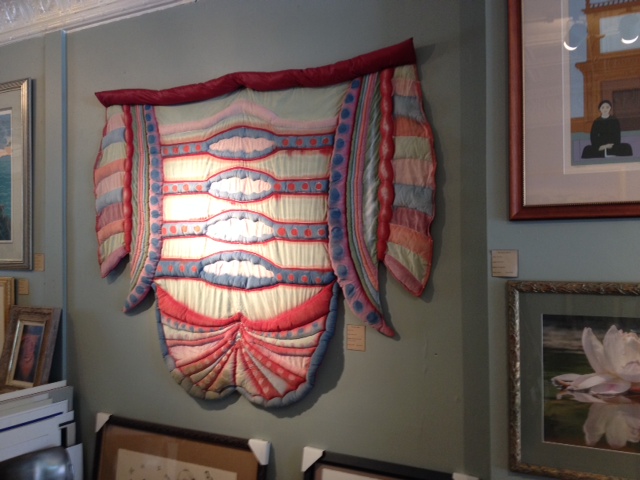 Those Pastel Days of Summer- Hand – painted, tie-dyed, hand sewn corduroy,
completed in1984 76" x 80"
MEMBERSHIPS, OFFICES, and AWARDS
Trustee Emerita, American Crafts Council, New York, 1998
AMES TREASURE AWARD, ACAC ArtsQuest, 1998
President, Iowa Designer Crafts Ass=n, 1995-1997
Iowa Arts Council, Governor appointment 1988-1991, reappointed 1991-1993
Chair: Creative Arts/Visual Arts Pilot Grants, Artists in the Schools, Individual
Artists, Vice-Chair for the Council 1992-1993.
President and Vice-President, Colorado Artists Craftsmen, 1982-1984
Regional representative (SW and NC) to the national Surface Design Association, Education Director
Newsletter Editor and Board of Directors, Evergreen Artists' Association, 1982-1985
Elected to the New Zealand Academy of Fine Arts, 1982
Craftsman-Trustee and Program Chairman for the American Crafts Council, New York, 1984-1988
Delegate to World Crafts Council in Vienna, Austria, summer of 1980
Vice-President and Board of Directors, Iowa Designer Craftsmen
President and Board of Directors, Ames Community Theater
Secretary and Board of Directors, Ames International Orchestra Festival Association
Board of Directors, Central Iowa Symphony
President and Board of Directors, Ames Chamber Artists
"Bahai Poppies"
by Andrea Vincent. $14,800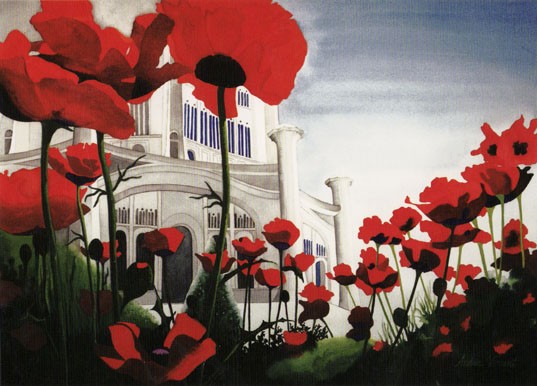 "Bahai Poppies" Watercolor on paper. Image 22.5"x30.25" Framed 31.25"x38"
I was somewhat familiar with Andrea's work prior to meeting her. And that was due to her relationship with the "Palette and Chisel Academy of Fine Arts Academy," in Chicago, the oldest Fine Arts organization in the state of Illinois. In 1999-2000, I had the distinct pleasure of meeting Andrea Vincent when my Gallery was in Wilmette, Illinois. She also lived in Wilmette, and just a few blocks from the Bahai Temple. Andrea was good enough to place her work in one of my early shows, after I expanded my Gallery, into the storefront next door to my original, Wilmette Gallery/Frame Shop. And featured in that show was "Bahai Poppies." And like so often happens, I fell in love with one of her paintings.
Andrea Vincent is a member of numerous organizations and is a Signature member of the American Watercolor Society, National Watercolor Society, Allied Artists of America, Inc, Philadelphia Watercolor Society, Catharine Lorillard Wolfe Art Club, and the Taos Society of Watercolorists.
Andrea Vincent… "I rarely paint directly from one photograph, but rather a group of images will provoke a memory of a moment I want to capture. As a result, the artfulness, composition, and quality of my photographs add to the quality of my paintings. The photographs allow experimentation with light, angles, color, and composition of the subject."
"International Artist" magazine awarded her as a Landscape Finalist and also included additional paintings in three publications, titled "100 Ways to Paint Flowers and Gardens, Vol. 1", "100 Ways to Paint Your Favorite Subject, Vol. 1", and "100 Ways to Paint Still Life, and Florals, Vol. 2". In addition, Amoco Corporation, Annuity and Life Reinsurance, Chicago Council on Foreign Relations, Dr. William M. Scholl College of Podiatric Medicine, CRE Properties Ltd, Tuckers Point, Bermuda Properties, Ltd., and Fairmont Hamilton Princess Hotel, Bermuda, include her work in their corporate collections.
"Sheep Resting as mother & child feed the hens"
by William A. Elleby. $3,800
"Sheep resting as mother and child feeds the hens."
Oil on canvas Canvass 20"x30" Outside frame 27.5"x37.5"
William A. Elleby
1856-1932
William Alfred Elleby… A British landscape artist who spent a fair amount of time in Wales and Scotland, painting landscapes, often including farms, sheep and cows. There doesn't seem to be much biographical information on William Elleby but when I had an opportunity to purchase these two paintings, I took it in a heartbeat. I have found his work to be quite beautiful.
"Sheep resting as farmer feeds the hens"
by William A. Elleby. $3,800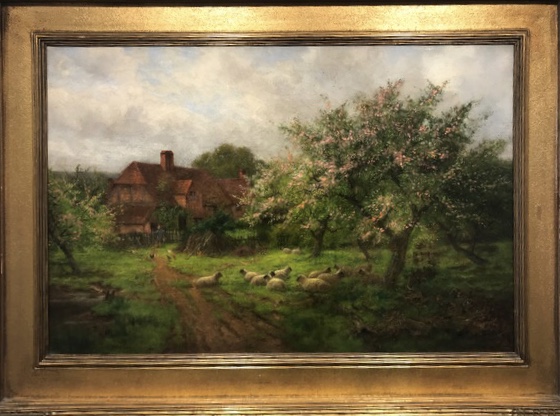 "Sheep resting as farmer feeds the hens." Oil on canvas Canvass 20"x30" Outside frame 27.5"x37.5"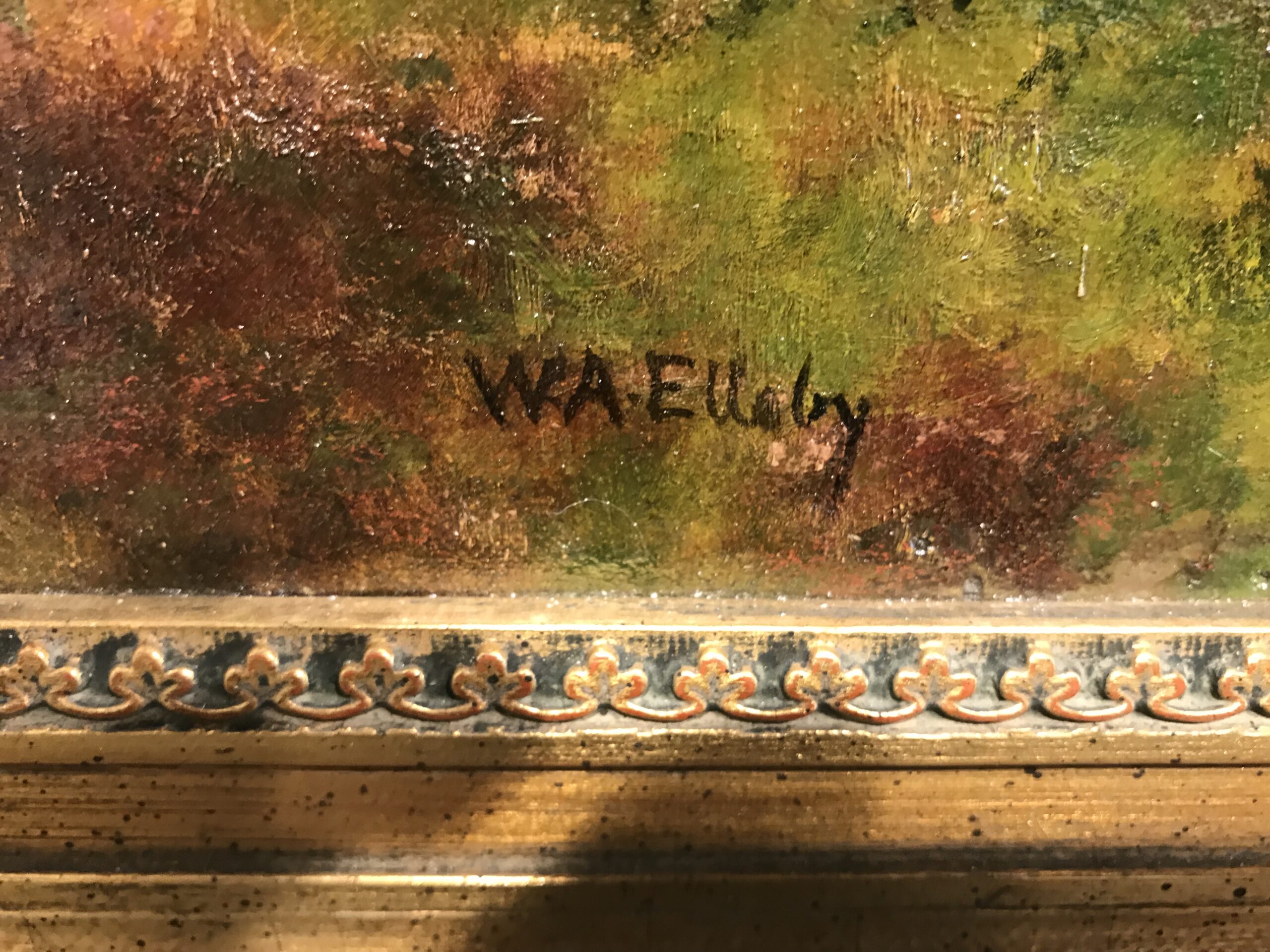 Artist's signature – W.A. Elleby
"Clown at the Psychiatrist's Office"
by Robert Owen. $2,800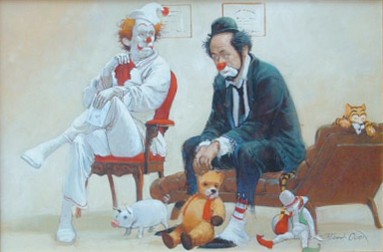 Oil on canvas, 24" x 36" Framed
Robert Owen was born in Polk County, Missouri on September 2, 1930. He was ninth of ten children. He has been painting for 35 years professionally. For 30 of those years he has been delighting people with his clowns. Mr. Owen was residing in Southern California up until the death of his beloved wife of 22 years, Norma Jeanne February 5th 1999. He has since taken up residence in Western Washington.
Robert Owen's paintings can be found among many of the international "jet set" community's distinguished art collections, and in private homes all over the nation. A partial list of his collectors include, Mr. and Mrs. Don Adams, Mr. and Mrs. Frankie Avalon, Mr. and Mrs. Sid Caesar, Mr. and Mrs. Dick Clark, Mr. and Mrs. Joseph J. Cunha, Mr. and Mrs. Peter Falk, Dr. and Mrs. C.R. Lincoln, James Merick, Mettler Electronics Corp, Mr. and Mrs. Jerry Van Dyke, Miss Dionne Warwick and James West.
One man shows and exhibits have been held in many galleries some include: Norman Wilks Gallery, Oklahoma City, Ok, ~ Pagliacci Gallery, Newport Beach, CA, ~ Ira Roberts Gallery, Beverly hills, CA, ~ Maidenlane Gallery, San Francisco, CA,~ Charles Pace Gallery, Houston, TX,~Galerie De Tours, Carmel, CA,~ Albert Charles Gallery, Gatlinburg, TN,~ Craft Gallery, La Mirada, CA,~ Joy Rubins Art Emporium, Hollywood, FL,~ Grafton Street Gallery, Costa Mesa CA,~ Seger Fine Art Gallery, Boca Raton, FL,~ MGM Grand Gallery, Las Vegas, NV, ~ O'Kelly's Gallery, Long Grove, IL,~ Houshang Gallery, Dallas TX, ~ Gallerie Hawaii, Honolulu, HI, ~ Galerie de Las Artists, Las Cruces, NM,~ and the Museum of Sciences & Industry, Los Angeles, CA, Just to name a few. © Robert Owen. All Image Rights Reserved.
"Another Season"
by Ruth Valerio. $2,800
"Another Season" 1998 Oil on canvas. Image 12"x16" Frame 17"x20.5"
I met Ruth in the late 1990's while visiting friends in Santa Fe. At that time I bought the painting above, and Ruth allowed me to take several paintings from her gallery, on consignment, back to my gallery in Wilmette, Il.
Ruth Valerio's descriptive landscapes reflect not only many years of observing and painting in the fabled northern New Mexico light, but growing up in the softer-focus diffused light of England. She credits her poet father and artist mother with encouraging her to view and interpret the world around her in poetic and artistic terms. The legacy of such an appreciative and creative point of view gave an early impetus to her artistic career. Wherever she traveled, whatever she experienced, she saw the world as a parade of possible paintings. With four years of formal training at the University of Alaska, she continued to study with many prominent artists, finally settling in Santa Fe to paint in a stimulating, inspiring and endlessly beautiful environment.
Working in oils, she does small field sketches and takes photographs and interprets them in the studio as larger paintings. Her subjects include landscapes, still life, market scenes and animals. Ruth Valeriohas been represented in invitational and solo show.
"Walrus"
by Shane Dimmick. $2,400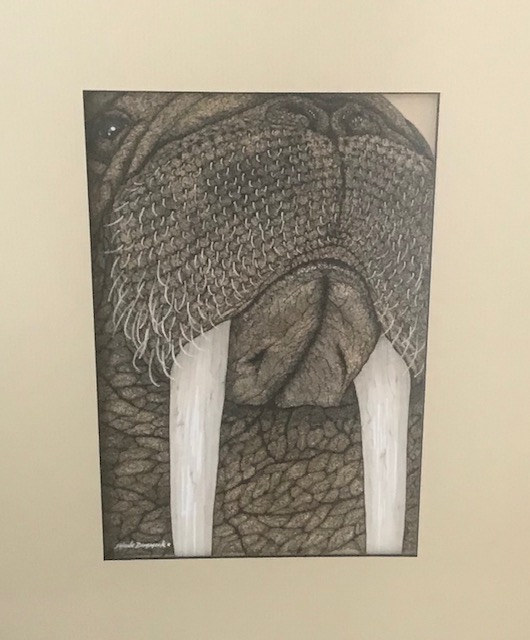 "Walrus" Oil on canvas, image 6"x9" framed 18.75"x23.75"
I met Shane Dimmick in early 1983 when I moved to Evergreen, Colorado. I believe it was at the annual Evergreen Art Fair; and I was quite taken with her work. I have met many artists over the years, and Shane Dimmick is clearly one of the most talented artists I've ever seen; and saying she is "talented," doesn't even begin to tell you how great she is. Her skills as an artist are second to none. And her devotion to her subjects is exceptional; as seen in her highly creative renderings, their protection, and the world they live in. Below you'll find a most impressive history, of one of the world's great artists. You will find more of Shane Dimmick's work on her website – www.shanedimmick.com
Shane Dimmick was born and raised in Wyoming where frequent trips to Yellowstone and Grand Teton National Parks made a lasting impression on her. She expressed this early passion for the natural world through drawing and study, which led to a degree in biology and a career in illustration and wildlife painting. A job early on as a graphic artist gave her a foundation in drawing skills and design. Now, field trips across the country and her own backyard, currently in the mountains of Colorado, provide her an array of subjects and a glimpse into their lives which inspire her wildlife paintings. She has also helped rehabilitate wildlife and was a founding member of an animal protective league.
Shane enjoys portraying wildlife as individuals with their own stories, or connecting them to a piece of the past to tell a story of both animal and human. She often emphasizes the animal itself to convey a particular mood, quality, or personality, bringing us face-to-face with nature. Her genuine regard for her subjects, her knowledge complemented with imagination, and her sense of design and detail help to create intimate portraits that take wildlife beyond conventional stereotypes.
Her work has exhibited nationally and internationally including: Art and the Animal (California Academy of Sciences, Denver Museum of Natural History, Hiram Blauvelt Art Museum, Hunter Museum of American Art, Utah Museum of Natural History, et al); Arts for the Parks (Jackson Hole, WY); Birds in Art (Woodson Art Museum, WI, Swedish Museum of Natural History, Stockholm, Sweden); Coors Western Art Show & Sale, (Denver, CO); Endangered Species: Flora & Fauna in Peril (U.S. Department of the Interior Museum, DC, Wildling Art Museum, CA, Wildlife Experience Museum, CO); Paint the Parks (Kolb Studio, Grand Canyon National Park); and Pictured: The Nation's Most Spectacular National Parks (St. George Art Museum, UT). Her clients include University of Oklahoma Press, National Western, National Wildlife, The Nature Company, Fulcrum Publishing, and the Solar Energy Research Institute.
She is a Signature Member of the Society of Animal Artists, New York, and has won its Award of Excellence. Her work is in numerous private, corporate and public collections, and in four books on both art and wildlife. Her artwork has helped raise substantial funds benefiting conservation, wildlife, and humane organizations. Through her work she hopes to share an appreciation for all things wild, a concern for what we are losing, and to remind us that animals, too, are capable of experiencing a diversity of feelings and emotions.
"Antique Egyptian Tapestry"
Acquired in 1977-78 * $600 each
These three handmade, Egyptian tapestries, were brought back from Egypt in the summer of 1977-78 by a client and friend. At that time, similar pieces were being sold at Chicago's Marshall Field store on State Street.
The history…
I've been in the art and custom framing business since February 1976 and have worked comfortably in both commercial and residential environments. And unlike many in my business, I do all the work myself, including installations. For 40 years in business, my talents have taken me into many Chicago area businesses, homes, law firms, restaurants, etc. Likewise, I have framed, delivered and installed for clients in Denver, Santa Fe, Ohio, New Jersey and New York. The clients…
The recently dedicated Pete Seeger Room at the Old Town School of Folk Music, The original "Michael Jordan's Restaurant" (400+ pictures completed in 5 weeks, framed and installed), Mike Ditka's Restaurant on Chestnut, The East Bank Club, Children's Memorial Hospital, St. Anthony's Hospital (Chicago), St. Joseph's Hospital, Columbus Hospital, the Wyler Children's Hospital at the University of Chicago, and the St. Anthony's Hospital System in Denver, The Arrowhead Golf Club building in Wheaton, Pat Bowlen and the Denver Bronco's at Mile High Stadium.
The mission…
Again, unlike many corporate art people, I do it all myself. From conception to completion, I have worked with the architects/designers on the actual design project as well as with the end user. There is no middleman when I'm involved. I do all the framing myself as well as the installations. This has proven to be far more efficient and cost effective than buying from a corporate art consultant who then uses a separate framer and installer.
The results…
I'm very good at what I do, extremely cost conscious, and easy to work with. I have many happy customers, and especially good references. I have often been accused of treating each customer, as if they were my "only customer", and that's a good thing. I look forward to working with you in the future.

The Danon Gallery
5123 Congressional Pl.
Lawrence, Kansas 66049
847-899-7758
By appointment only…