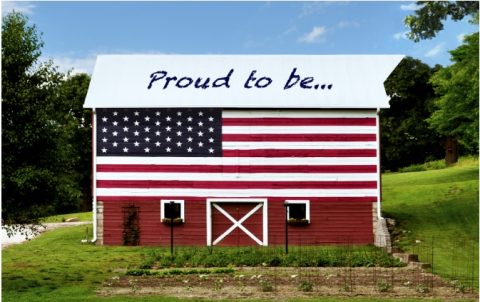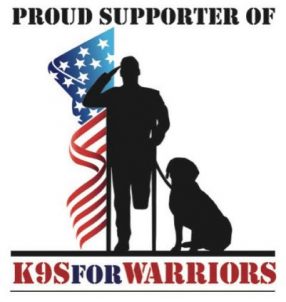 Proud to be…© is a fine art photographic print taken by Bob Danon in 2017. The title, the words on the roof of the barn, were written and added to the image by Mr. Danon. This image, signed by Mr. Danon, can be purchased in the Danon Gallery, or ordered by contacting the Danon Gallery at – bob@danonartnframes.com
Unframed Print $245                  Framed Print $475
The framed print is matted & backed with acid-free materials and UV-regular glass is used to prevent fading.
Image size: 15.25"x22"Paper size: 19.25"x26"Framed size: 21.25" x 28"
A Proud to be… bracelet will accompany each purchase.
For each print sold or donated, The Danon Gallery will donate $25 to K9S For Warriors.
K9S For Warriors – "Dedicated to providing service canines to our Warriors suffering from Post-Traumatic Stress Disability, traumatic brain injury, and/or military sexual trauma as a result of military service post 9/11. The goal is to empower them to return to civilian life with dignity and independence. For more information, visit www.K9sforwarriors.org
Residential & Commercial
Fine Art & Creative Custom Framing
Quality & Service Since 1976
The Danon Gallery in Evanston, Il 2010-2019.
Bob and his two business partners, Evanston, Il.
The Danon Gallery, now in Lawrence, Kansas, has one of the most interesting, diverse and eclectic art collections in the country. From antique watercolors, oils and etchings to contemporary, limited edition serigraphs and Giclée prints. From metal sculpture to beautiful fiber art wall hangings by internationally collected, fiber artist, Carmon Slater. And then of course, there is a 45-year history of creative, custom picture framing for both residential and corporate environments.
For 45 years, The Danon Gallery (formerly of Chicago, Evergreen, Colorado, Wilmette and Evanston, Il,) has continued to bring quality and service not just to the Chicago area, but to homes, restaurants, offices and hospitals around the country. Bob Danon, owner and operator of The Danon Gallery is personally involved in every project that crosses his desk and worktable. In both "Residential and Corporate" environments, The Danon Gallery continues to offer unique fine art selections, as well as excelling in the design and creation of affordably priced creative, custom picture framing.
Services and products available at The Danon Gallery: Creative Custom Picture Framing, Fine Art – Originals & Limited Editions, Poster Art, Mirrors, Shadow-boxes, Plexi-boxes, Mounting up to 4′ x 8′, Repairs and Installations (the hanging of your art), Packing and Shipping, Local Pickups and Deliveries.
Please feel free to call anytime, and make an appointment to visit the Danon Gallery. Or subscribe to our website for monthly information regarding specials, and upcoming, Gallery Shows, and much, much more.
Thank you…, Bob
The Danon Collection
As I bring the Danon Collection more up to date in this new format, other pieces will be added and offered. Should anyone wish more close-up photographs, or more information on any particular piece or artist, please don't hesitate to ask. Thank you…, Bob Danon
The Danon Collection
As many know, I have been in the art and creative custom picture framing business since February, 1976. However, I started buying and collecting art, several years before that. Now, after almost 50 years I have decided to open that world up a bit more to those of you who might be art lovers.
The Danon Collection is now offering a number of these works of art. Some are about the Chicago area, or by Chicago area artists & publishers. Many are from different parts of the country and some are from Europe. Inquiries are welcome during this on-going project. bob@danonartnframes.com
"The Chicago 7 Trial"
by John Downs. $16,400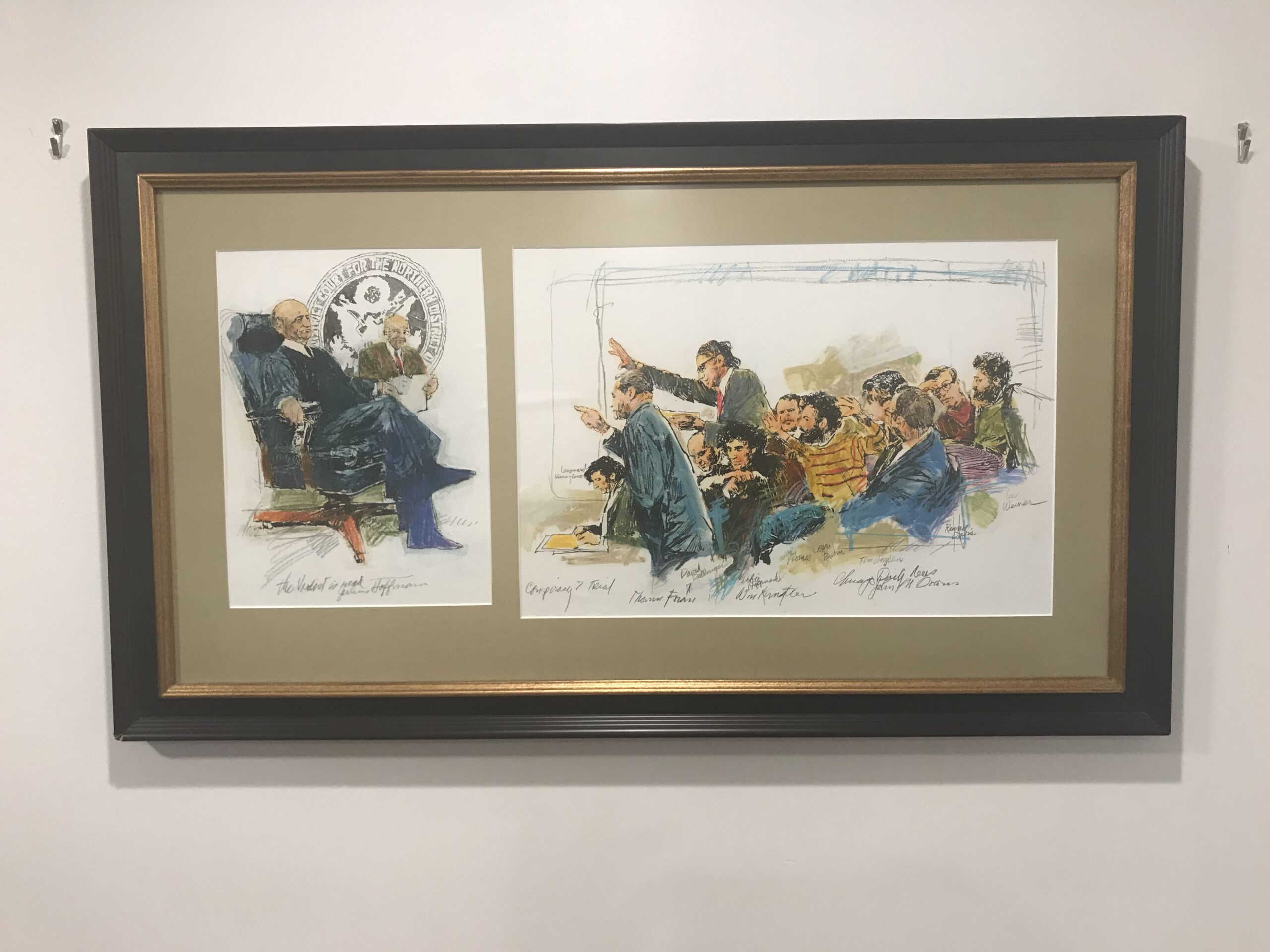 "The Chicago 7 Trial" Inside dimension – 19" x36.25" Frame size – 23.25" x 40.5" Judge Hoffman mat-opening -10" x 14" Attorney and defendants opening – 14.5" x 20.5"
The glass used is Conservation-clear glass and the mat and backing are acid-free.
The Chicago 7 Trial – Wikipedia- https://en.wikipedia.org/wiki/Chicago_Seven
John Downs was my friend… We met in 1968, when we lived in the same building, in Chicago's Uptown neighborhood. At that time, John was the Feature Illustrator for the Chicago Sun-Times. Years later, we lived just blocks from one another, in Rogers Park, on Chicago's far northside.
I'm proud to say that John's wonderful paintings, often hung in my home and my gallery, numerous times over the years and appeared in a number of my Gallery Shows. Going back 25-30 years, I purchased two particular paintings from John. Above, I framed them together in one frame with a double opening mat. On the left is Judge Julius Hoffman, about to read the verdict, and on the right, lead defense attorney, William Kunstler trying to address the judge.
John Downs did this painting from a black and white, line drawing stat, of the original Sun-Times, court room drawing, of his original illustration. Upon completion of that painting, John wrote in the names of all the various characters in the painting.
John M. Downs 1936 – 2019
John Downs, Chicago Sun-Times Obituary:
https://chicago.suntimes.com/2019/10/21/20881924/john-downs-artist-chicago-daily-news-sun-times-richard-speck-john-wayne-gacy
"Symbolic Portrait of a Great City"
by Sherman Henry Linton. $46,500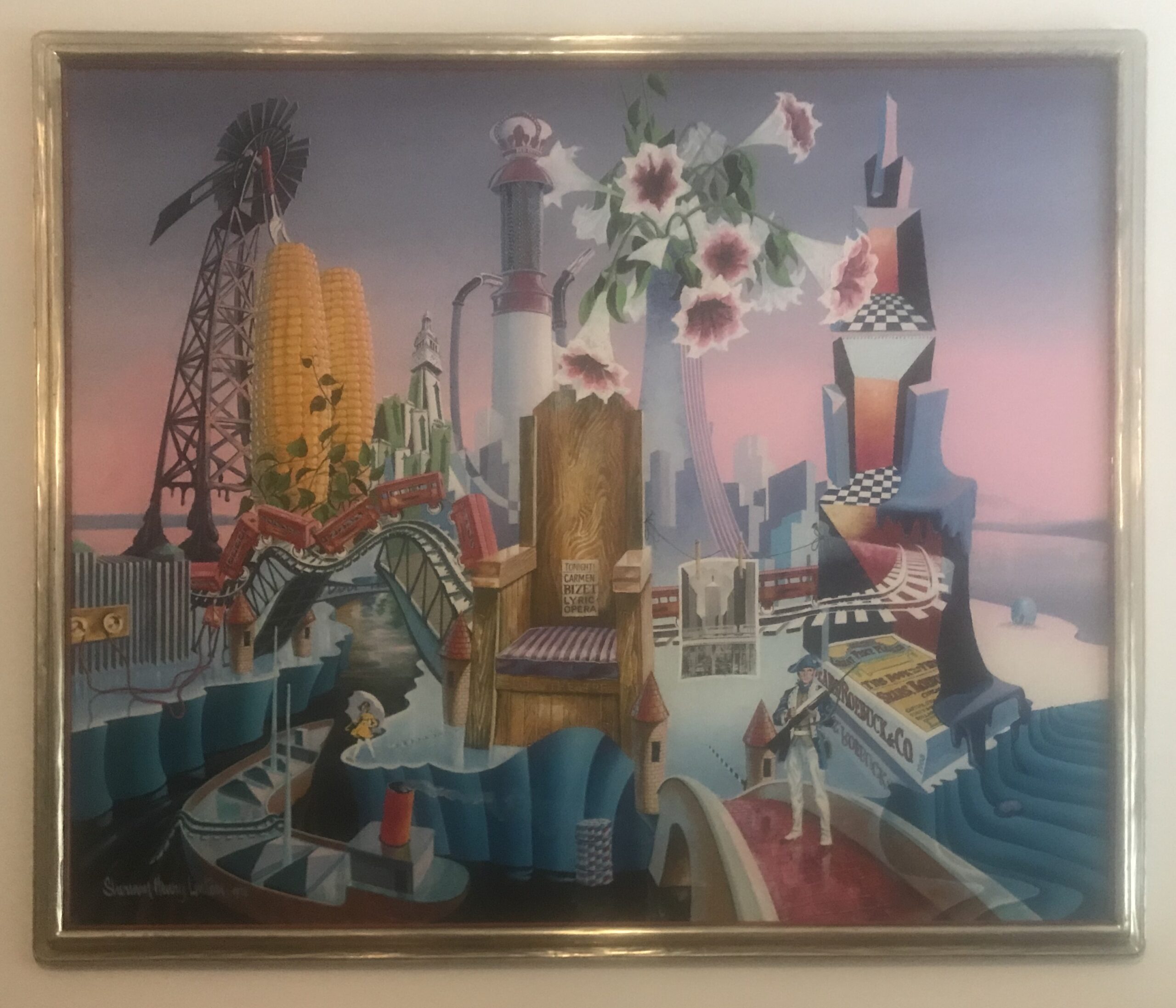 "Symbolic Portrait of a Great City", 1978, Size: 48″ x 60″ Acrylic on canvas.
This painting was commissioned in 1978 by CBS owned, WBBM-FM Radio, in Chicago, to appear on a calendar promoting the radio station. Henry was very prolific , whether it was a surrealistic painting like the one above or others I own, several of which are below. The buildings and images depicted in this painting tell the story (going from the top, left to right) are: The Hancock Building (with the structural features of a large oil derrick and wind tower), Marina City (as two cobs of corn), The Wrigley Building (literally built from packs of chewing gum), The Standard Oil of Indiana Building (as a gas pump), The 1St National Bank Building (as a vase of orchids, representing wealth and good fortune), The Sears Tower (clearly built on the Sears Catalog), The Steel Mills in Indiana (far to the right, across the lake), with smoke rising from their furnaces, and the original Grant Park Band Shell (appears as a broken egg shell), Continental Insurance (the soldier standing on the bridge), a black and white photo hanging on a line, looking south on LaSalle at the Board of Trade (one of the most photographed images of Chicago), The Lyric Opera House (shaped like a throne), The Morton Salt Girl (standing by the Chicago River), The CTA (on the "L" tracks, plugged into) The Merchandise Mart
"Memorial to War"
by Sherman Henry Linton. $19,800
"Memorial to War" 1972-1973 – Acrylic on canvas 30′ X 36″, Framed 33″ X 39"
"Memorial to War" was the very first painting I purchased from Henry, several years before I ever into went into the Fine Art and Custom Picture Framing business. The painting was done as a tribute to his father, who was gassed in WWI, and died years later. If you look into the clouds, on and over the soldier's left shoulder, you can see a woman crying; that was Henry's mother. © Henry Linton. All Image Rights Reserved.
"MANKIND CANNOT BE RECYCLED"
by Sherman Henry Linton. $11,900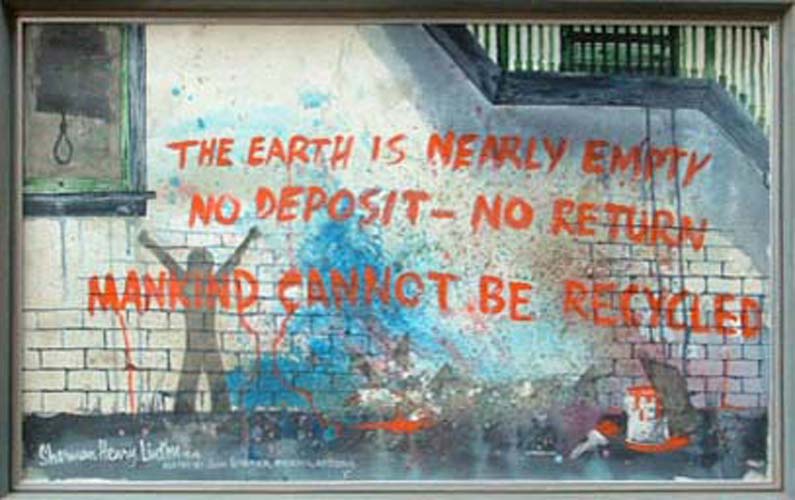 "Mankind Cannot be Recycled" 1976 – Acrylic on canvas/mixed media. 22″ x 36″, Framed- 24″ x 36″
"Mankind Cannot Be Recycled…." just Henry being Henry.
© Henry Linton. All Image Rights Reserved.
Over the years, my friend Hank Linton, who signed his work Sherman Henry Linton, worked as an art director, at a number of different Chicago, advertising agencies. Whenever possible, he would retire to his farm in upper Michigan to paint. Hank could paint in almost any genre but his true love was surrealism. Several of Hank's paintings were on display at the once famous, Ricardo's restaurant on Rush Street. One, in particular, "Evolution," replaced the missing Ivan Albright painting, "Drama," when it went missing in an apparent family disagreement.
"Hold No Water"
by Sherman Henry Linton. $1,600
"The Beatles at Tittenhurst"
by Jessica Fine. $14,800
"The Beatles at Tittenhurst" Pastel on paper, image 11.5"x14.5" Frame 24.5"x27.5"
"The Beatles at Tittenhurst" When Jessica Fine first walked into my gallery with this painting under her arm, she was some 20+ feet away. And seeing it from that distance, I would have sworn it was a photograph. The clarity of the images was unbelievable, for a pastel image. And when I viewed it up close, I was even more impressed.
The image that Jessica Fine so carefully painted was taken from the very last photograph ever taken of the Beatles together. Wiki: The last Beatles photo session took place at Tittenhurst Park on 22 August 1969, and the photos were used for the front and back covers of their Hey Jude album (a collection of single sides) early in 1970. Also during that year, and in the wake of the Beatles' breakup, Lennon built his own recording studio, dubbed Ascot Sound Studios, in the estate grounds, where he and Ono recorded their next several albums. The matching cover photos of their twin Plastic Ono Band albums were taken at Tittenhurst by the pair, using an Instamatic camera, and portions of the Imagine film-length video, which included selections from the Fly album, were also filmed in the grounds. The interior was also used as the backdrop for the film that was used to promote the single "Imagine", with Yoko seen opening the window shutters as John played a white grand piano.
"…for Courage is the capacity to confront
what can be imagined"
by Carmon Slatter. $28,400
"…for courage is the capacity to confront what can be imagined…"
Original work by artist Carmon Slater completed in 1981.
129" x 82" Hand-painted and tie-dyed hand sewn velvet.
Carmon Slater has been creating artwork for the past fifty+ years. His works are found in collections around the world, including the Bank of Australia-New Zealand and Rocky Mountain Energy, as well as those of private collectors. Working in acrylic, print, and fiber media, Slater's work often reflects his extensive background in the earth sciences. Layers of color focus on the interplay of positive and negative space, an important aspect of his work.
The history…
I've been in the art and custom framing business since February 1976 and have worked comfortably in both commercial and residential environments. And unlike many in my business, I do all the work myself, including installations. For 40 years in business, my talents have taken me into many Chicago area businesses, homes, law firms, restaurants, etc. Likewise, I have framed, delivered and installed for clients in Denver, Santa Fe, Ohio, New Jersey and New York. The clients…
The recently dedicated Pete Seeger Room at the Old Town School of Folk Music, The original "Michael Jordan's Restaurant" (400+ pictures completed in 5 weeks, framed and installed), Mike Ditka's Restaurant on Chestnut, The East Bank Club, Children's Memorial Hospital, St. Anthony's Hospital (Chicago), St. Joseph's Hospital, Columbus Hospital, the Wyler Children's Hospital at the University of Chicago, and the St. Anthony's Hospital System in Denver, The Arrowhead Golf Club building in Wheaton, Pat Bowlen and the Denver Bronco's at Mile High Stadium.
The mission…
Again, unlike many corporate art people, I do it all myself. From conception to completion, I have worked with the architects/designers on the actual design project as well as with the end user. There is no middleman when I'm involved. I do all the framing myself as well as the installations. This has proven to be far more efficient and cost effective than buying from a corporate art consultant who then uses a separate framer and installer.
The results…
I'm very good at what I do, extremely cost conscious, and easy to work with. I have many happy customers, and especially good references. I have often been accused of treating each customer, as if they were my "only customer", and that's a good thing. I look forward to working with you in the future.
The Danon Gallery
5123 Congressional Pl.
Lawrence, Kansas 66049
847-899-7758
By appointment only…